Strap size and length
---
How can I know what the size and length are of my strap?
We refer to the following page Strap size guide where you can find all information and a detailed explanation on how to measure your strap or to know which strap size and length you need to order for your watch.
Quick release
---
What is the 'Quick Release' option that can be chosen when ordering a strap?
A quick release allows you to easily attach the strap to your watch or remove it from your watch by sliding the nub with your finger. This is a €8 option provided on each strap in our webshop and one that surely will add a lot of convenience to your purchase.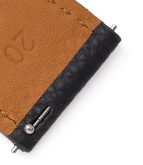 Returns
---
Is it possible to return a product?
We stand behind the quality of every watch strap we offer and we truly hope you are happy with your purchase. If for any reason you are unsatisfied, we will accept your return within 30 days after your reception. Returns may not be worn and must be in the same condition as when you received the products. All returned products are inspected by our master craftsmen to ensure the perfect condition of the strap. When a watch strap is fitted to your watch and you wear it, even just once, it is considered as used making it impossible for us to offer it to someone else through our webshop and hence we do not accept a return in that case.
How do I return a product?
Before returning a product back to us, may we please ask you to fill in the
and wait for our reply. This in order to avoid any misunderstandings as in some cases returns are not accepted for the reasons explained in the previous question here above. When sending a strap back to us, please make sure you send it back together with the original packaging, so with the LIC box and pouch. We advise you to consider using a trackable shipping service or taking a shipping insurance. We can't guarantee that we will receive your returned item. Please include the original order confirmation document in the package. We also recommend you to save your carrier's tracking number somewhere. The shipping cost are at your expense and the goods are at your responsibility until they reach us, so make sure they're packed properly and can't get damaged on the way.
Important to note is that custom-made products cannot be returned.
If you are shipping your goods back from outside the EU and you need to complete customs declaration information, please mark the package as 'customer return'. This in order to make sure your return clears EU and Belgian customs smoothly. Any charges or duties levied by customs authorities will be deducted from your refund. This can be a significant amount if the necessary documentation is not competed correctly so please take good care when filling in the documents.
Once we have received your return at our workshop, our master craftsmen will inspect the state of the returned watch strap. If everything is in the original and perfect condition, we will proceed with the reimbursed within 30 days after reception. A confirmation email will be sent to you once your return is finalised and the refund has been issued to the original payment method. Note that the shipping costs are non-refundable. If you receive a refund, the cost of shipping will be deducted from your refund.
RETURN ADDRESS: International Leather Company NV Leegaardsdijk 8 8400 Oostende Belgium
How long do I have to return a product?
As from the day you have received your order, we accept returns within 30 days.
How do I receive my refund?
If a refund is eligible, a credit will be applied to your credit card or original method of payment within 30 working days after receiving the returned product. You will be informed by e-email as from the moment the refund has been transferred. Note that a payment processing fee and handling fee of 5,00 EUR will be deducted from the purchase price.
Payment
---
What payment methods do you accept?
At the checkout, we accept the mostly used credit and debit cards. Other means of payment such Paypal and iDEAL are available as well.
Shipping
---
Yes, we ship all over the world.
When will my order be delivered?
It depends on how many orders we have at that moment in our workshop. Usually our team of master craftsmen need about 1 to 2 weeks to make your strap.
What shipping carriers do you use?
We work with Mikropakket for delivery to the countries Belgium, The Netherlands and Luxemburg. Deliveries to all other countries occur by DHL.
What are the shipping costs?
The delivery charges within the European Union are free of charge. The delivery charges outside de European Union are 4,95 EUR (incl. VAT).
Duties and taxes
---
All shipments outside European Union may be subject to import charges, which are your responsibility as a buyer. We cannot predict what specific charges will be of application for you as it depends in which country you are located. For more information regarding your country's customs policies, we suggest you to contact your local customs office.
My Account
---
To place order, do I need to set up an account?
No, you do not need an account to order our products. You can simply check out as a guest if you would prefer not to create an account.
I do not remember my credentials (login & password). What should I do?
Privacy
---
When placing an order or when creating my account, is my information shared with third parties?
No, the personal information you share with us is used for our internal processes and to ensure a correct delivery. We refer to our privacy policy in the GT&C for more information.
Others
---
I have a question but you can't find the answer on the website?
You can contact us via this link! We will be happy to help you as soon as possible but please note that we are a small team in the back-office so please allow us some time to get back to you.